Register for the AP-Hi Hackathon 2020 Today!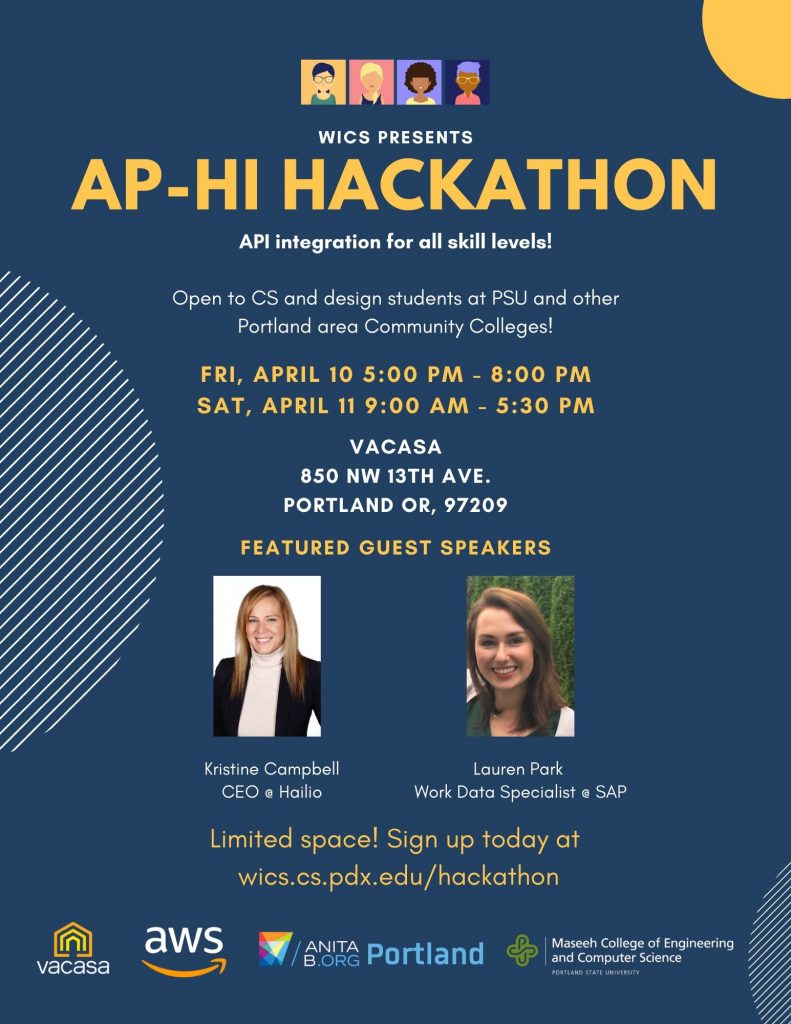 The AP-Hi Hackathon is designed to allow students to 'break the ice' with APIs (Application Programming Interfaces) in a welcoming, inclusive environment. Students will be able to explore what they can do with APIs and create a project in which they can showcase their skills!

If you haven't used an API before, don't sweat! We will present an introduction to APIs covering what they are and a brief overview with coding examples of various tools and libraries you can use.

CS and Design students of all coding levels are encouraged to register.

Note: Students from PSU, PCC, CCC, and other Portland-metro community colleges are invited. We reserve the right to refuse entry if you do not have a valid student ID upon sign in.
Friday, April 10th from 5:00 PM – 8:00 PM
Saturday, April 11th from 9:00 AM – 6:00 PM

Vacasa
850 NW 13th Ave.
Portland, OR 97209

Register Here Today!
The WiCS mission is to celebrate diversity by providing networking and support to communities historically underrepresented in CS. We aim to promote the participation and accomplishments of women, gender non-conforming, LGBTQ folk, first-generation immigrants, people of color, and disabled people.
About Our Guest Speakers
Kristine Campbell, CEO of Hailio
Kristine Campbell has over 20 years of high-growth leadership experience as a trusted business, technology and product management phenom. An empathic doer in the Fortune 100 and in SMB, she works with executives and teams to identify, build, deliver and lead complex products and initiatives. In her role as a respected, hands-on coach-leader-advisor to all levels in a company, she has proven her ability to identify high value opportunities, to make sound decisions, and to provide steady delivery when faced with pressure-filled and ambiguous situations. Industries have included Software, Information Technology, Oil & Gas, Retail and Consumer Packaged Goods, Hospitality, Financial Services, Aerospace, Healthcare, and the public sector.

Current and previous executive roles include serving as CEO of Hailio, an artificial intelligence startup; Leader of Product Operations, QA, Privacy and TPM at a CRM SaaS company; Director and Principal Manager for Microsoft; Director, Consumer Digital Technology Operations for Nike; Principal Transformation Leader for a Fortune 50 software company; Microsoft Senior Product Manager; Principal Solution Strategist; and as Director of Business Intelligence for a SaaS company that exited through IPO.
---
Lauren S. Park, Work Data Specialist at SAP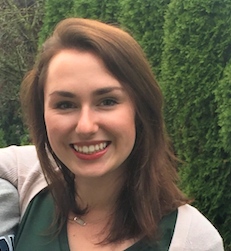 Lauren S. Park, M.S., is a Work Data Specialist for SAP, examining best practices in gathering, managing, and combining data to generate empirically-driven business insights. She is currently completing a dual-emphasis doctorate in industrial-organizational and quantitative psychologies at Portland State University. Her research focuses on organizational diversity, equity, and inclusion and the workplace experiences of under-served populations.