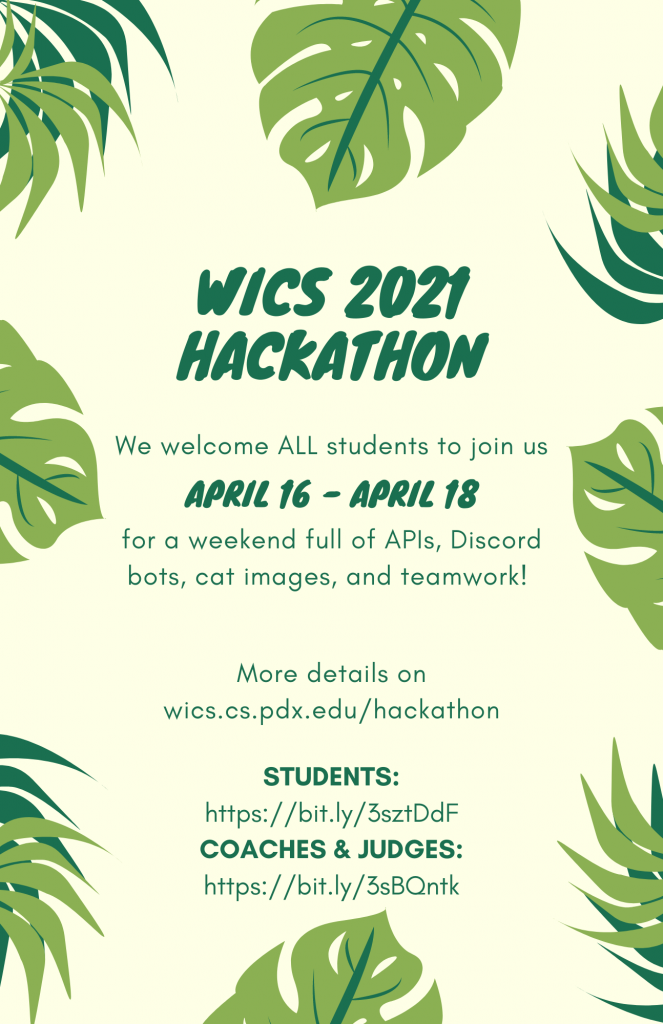 What is a Hackathon?
A Hackathon can be broadly defined as many things, but our favorite definition is: a place where people come together to solve problems. You and your team will come together to "hack" (or find a solution) to the problem you identify. Teams are generally 4-6 people, so bring a friend or expect to a new one!
Who should apply?
ALL students from colleges and universities in the Portland Metro area are encouraged to apply!
If you're in lower-division, come and learn a little about programming, and your team will fill you in on some awesome concepts! Get the vibes for the Hackathon and learn a thing or five! We'll have workshops from Katie Casamento, a professor from Portland State, to help out with getting the hang of APIs (application programming interfaces), as well as mentors to help your team get a working product!
If you're in upper-division, come and show off your skills. Remember, students of all levels will be here too so make sure everyone's involved in the discussions.
Not a student?
Volunteer with us! WiCS is looking for experienced developers to advise students through the Hackathon. As a coach, you'll have the opportunity to interact and teach the next generation of students from Portland State!
Time & Place:
This event will be held on Discord. Invite links will be sent out to RSVP attendees of the event.
Friday, April 16: 5:00 PM – 6:00 PM
Saturday, April 17: 10:00 AM – 6:00 PM
Sunday, April 18: 10:00 AM – 6:00 PM
Please note, you won't be required to be at the event during this whole time!
RSVP
If you have any further questions, please contact us at wics@pdx.edu.